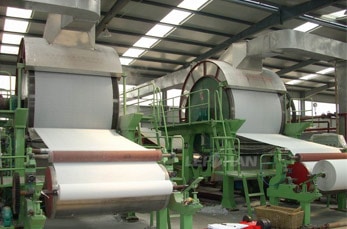 Toilet tissue paper has a lot of demand and consumption in our life. Our company produce whole set of toilet tissue paper making equipment from paper pulping to final toilet tissue paper rewinder machine. Here are more details about 25TPD toilet tissue paper making machine as below.
25TPD Toilet Tissue Paper Production Line Specifications
Paper grade: Toilet paper, tissue paper.
Applicable pulp: wood pulp, bamboo pulp, bagasse pulp, etc.
Trimmed width: 2850mm
Basis weight: 13-25g/m²
Operating speed: 550-600m/min
Design speed: 630m/min
Gauge: 3800mm
Wrinkle rate: 25%
Installed power: 612KW, transmission power 192KW. Operating power 575KW
Installed size: 18000*13500*6950mm(L×W×H)
Maximum roll paper diameter: 2000mm
Leizhan provides complete toilet tissue paper production line equipment, no matter 5t/d, 10t/d or 25t/d. And provide all kinds of paper making line, such as kraft paper, corrugated paper or culture paper, etc. Tell us your requirements to know more specifications. Email address: leizhanmachine@gmail.com.