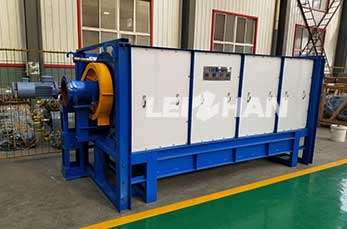 The drum screen matched with the hydrapurger, it is used to process various light and heavy impurities such as plastics, rubber, sand, metal sheets, films with large geometric shapes in waste paper pulp. Low power consumption, simple structure, convenient to repair.
Main Features about The Drum Screen
1. Reducer gear transmission ensures smooth and reliable operation.
2. Continuously variable transmission, flexible adjustment;
3. When used as coarse screening equipment, the screening area is large and the power consumption is low.
4. Water spray system is installed in the two sides screen drum's inside, guarantee high purity of impurities and less fiber loss.
As a professional paper making machine and pulping machine manufacturer, Zhengzhou Leizhan has always maintained the idea of technological innovation and continuous optimization. It can not only provide a complete set of pulping equipment, but also has professional personnel to answer your questions. If you are interested in our machine, welcome to consult us.
Email: leizhanmachine@gmail.com