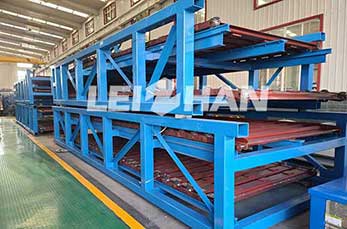 The Chain Conveyor adopts integrated reduction motor transmission form, unit design, and steel structure heavy-duty frame. The Chain Conveyor is mainly used for conveying various bulk materials. Easy to operate, easy to disassemble, small footprint and long service life.
Main Information about The Chain Conveyor
1. Chain top plate material: Carbon steel (coating on the surface of the top plate)
2. Chain conveyor carrying capacity: 2000kg/m (paper roll interval 500mm).
3. The rollers of the conveyor chain are equipped with bearings, which are flexible in operation.
4. The conveyor adopts the ground tensioning method, which is easy to operate.
5. The head and tail transmission parts are equipped with inspection pit covers, which are easy to disassemble.
This chain plate machine is a huge boost to the paper making industry and can bring a lot of convenience. Our Leizhan company has always adhered to the principle of quality first and is committed to providing people with high-quality paper making machine. If you are interested in our company's machine, welcome to consult us for more details.
Email: leizhanmachine@gmail.com