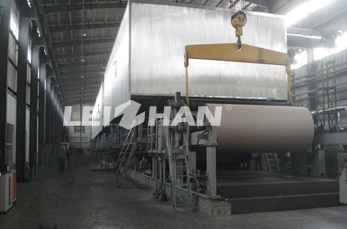 Corrugated board paper is mainly used as packing boxes. Common types of corrugated paper are three,five, seven, eleven layers corrugated board paper. Our company Leizhan provides 500t/d corrugated board paper machine, which can produce high strength corrugated board paper with different layers. It has superior quality, less maintenance and perfect after-sales service.
Main Technical Data of 500t/d Corrugated Board Paper Machine
1. Paper Grade: High-strength corrugated paper
2. Trimmed Width: 5800mm
3. Basis Weight: 150g/m2
4. Operating Speed: 800m/min
5. Production Capacity: 500t/d
For more than 40 years our company Leizhan has supported our customers around the world. Leizhan provides complete stock preparation line and paper machine for corrugated board paper,tissue paper, kraft paper, etc. Meanwhile, our company has 24 hour parts and service department,which can provide the fastest response time. Welcome to email us to know more details.
Email:leizhanmachine@gmail.com