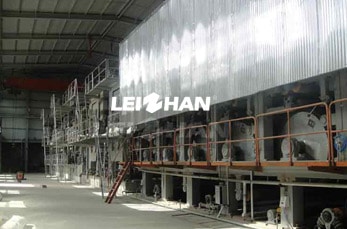 3200mm kraft paper making machine as one of the best-seling products of Leizhan, it adopts the high-end configuration and advanced technology to guarantee the quality of the finally produced kraft paper. The configurations of 3200mm kraft paper making machine is as below:
1) PLC as main control, 3.2-inch touch screen, Panasonic AC servo motor for dead length.
2) Vector frequency converter as speed regulator.
3) Three unique arm swinging for feeding, three layer unique deviation correcting devices, three unique mechanical friction tensions.
4) This machine has solved the low grams and low benefit so it can improve the capacity, it is the ideal equipment for customers to choose for kraft paper.
3200mm Kraft Paper Making Project Main Technical Data
1. Paper type: kraft paper
2. Gram weight: 80-200g/m²
3. Trimmed width: 3200mm
4. Production capacity: 100t/d
6. Dryness:
After wire section: ≥18-21%
After press section: ≥38-42%
Paper product dryness: 90%-92%
7. Finished product ratio: 96%
Want to learn more about 3200mm kraft paper making line, and the details and price of the pulping and paper making equipment in this plant, please contact us at any time.
Email address: paperproductmachine@gmail.com