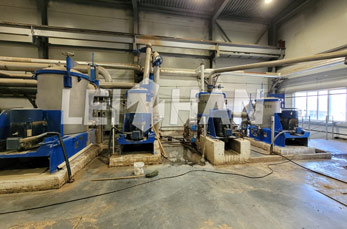 The tough texture, waterproof and wear-resistant characteristics of kraft paper make it often used to package and protect various items. Moreover, kraft paper can be recycled and reused many times, and the price is not high and the printing cost is low. Leizhan is committed to providing efficient and environmentally friendly kraft paper stock preparation production lines and creating competitive solutions for customers.
Main Details Of Stock Preparation Line
Raw material: LOCC
Main pulping equipment: Chain Conveyor, D Type Hydrapulper, Dump Pulp Pump, High Density Cleaner, Pulp Chest/Agitator ,Pulp Pump, Mid Consistency Coarse Screen, Fiber Separator, Mid Density Cleaner, Mid Consistency Screen, Inclined Screen, Double Disc Refiner, Pulp Chest Before Paper Machine.
Our kraft paper stock preparation production line adopts advanced technology and technology, and is equipped with an intelligent control system, which improves production efficiency and operational convenience while ensuring the quality and performance of the paper. Welcome to contact us for more details. Our email address:leizhanmachine@gmail.com