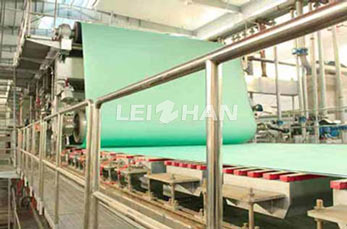 In many cases we need to use kraft paper, many customers choose our kraft paper making pulping line equipment to produce kraft paper. Most importantly, this kraft paper making pulping line from our company has already brought better profits.
Kraft Paper Making Pulping Overview
Chain Conveyor: Conveying waste paper to pulper machine.
Drum Pulper: breaking waste paper, remove large impurities, high capacity.
High Density Cleaner: Remove heavy impurities of pulp, like stones, staples, glasses, etc.
Light impurity separator: Dealing with light impurities and tailing in coarse screening section.
Reject Separator: Fiber relief and impurities separate for tailing in the coarse screen system for waste paper pulp.
Low Density Cleaner: Removing heavy impurities in the pulp like gravel, scrap iron, dust and large ink Particles.
Double Disc Refiner: Improving the beating degree of pulp.
Contact our professional team for more details about kraft paper making pulping line equipment!
Our email: leizhanmachine@gmail.com