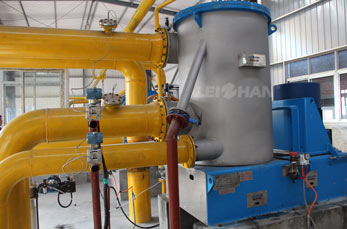 The LEIZHAN high quality paper pulp screening equipment mid consistency pressure screen is a multi-use screen which can run as a coarse screen and fine screen as well as fractionator applications for paper pulp making process. The ZNS mid consistency pressure screen equipment is equipped with high quality rotor and screen basket which ensures reliable performance and high screening efficiency. The screening consistency can vary upon application.
Features of the mid consistency coarse screen
Many rotor blades, energy saving rotary rotor
Advanced structure, low energy consumption
Efficient removal of heavy contaminants
Automatic oil injection device can reduce maintenance
Benefits of the mid consistency coarse screen
High quality paper pulp screening equipment
Low energy consumption
Gentle screening process
Continuous operation with simple process control
Optimized screening performance
Apart from high quality mid consistency pressure screen, Leizhan can supply other paper pulp screening equipment for high-grade pulp making, like Up-flow pressure screen, Inflow pressure screen, etc.