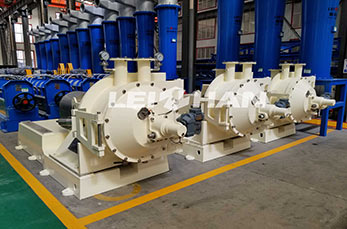 There are a pair of discs in the grinding chamber of the double disc refiner, each of which is driven by a motor through the main shaft, so that the tooth surfaces of the two discs face each other and rotate in opposite directions, referred to as the double disc refiner. The gap between the discs of double disc refiner can be adjusted by the hand wheel, the oil pressure keeps the pressure constant, and the screw feeds.
Application & Features
1. The direction of the two disks is opposite, the torsional force acting on the pulp fiber increases accordingly, the power consumed when the pulp rotates decreases, and energy saving
2. Double disc refiner is beneficial to the grinding of pulp.
3. Enhanced capability for fiber tearing and brooming.
4. Stainless steel material in contact with pulp.
The pulp and paper equipment industry has become a key area of digitalization and artificial intelligence. Leizhan can provide a set of machine for paper making line. If you have interest to our machine, please contact us by email: leizhanmachine@gmail.com