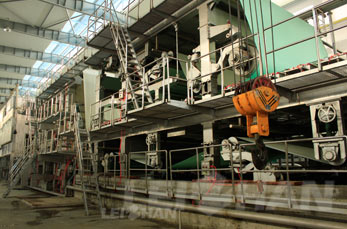 Kraft paper, used as packaging material, which has high strength, and always tawny color. Leizhan as professional pulp equipment manufacturer, we supply the whole set of kraft liner board machine, which include the testliner pulp making line and final kraft paper making. The details about 5800mm kraft/testliner manufacturing machine as below.
Kraft/TestLiner Board Machine Information
Paper grade: Kraft paper
Trimmed width: 5800mm
Basis weight: 80-220gsm
Operating speed: 150-800m/min
Production capacity: 750t/d around
Kraft slurry making equipment: From the first waste paper conveying to final fine pulp, Chain Conveyor,
Bale Breaker
, Drum Pulper, High Density Cleaner, M.C.Pressure Screen, Low Density Cleaner, Reject Separator(Kraft pulp tailing device), Light Impurity Separator, Inflow Pressure Screen, Refiner, etc.
The production capacity about testliner board making machine is usually from 45-750tpd, and we supply the turnkey kraft paper production line, which from the testiner pulp making raw material choose to final installation, any more details about kraft making machine or other packaging paper making line, contact us: leizhanmachine@gmail.com.