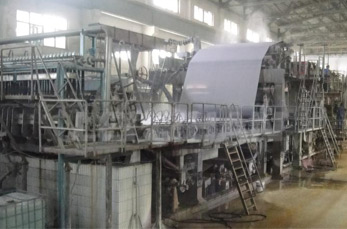 Small capacity 30t/d writing culture A4 paper making line use wood pulp as raw material. After finishing pulping, cleaning, screening, the pulp enters into culture A4 paper machine to produce new paper. Different production materials can be selected according to different uses of the final product.
Pulping Equipment In Writing Culture A4 Paper Making
Chain conveyor: convey wood pulp into D type hydrapulper
D type hydrapulper: water and wood pulp mixted forming culture a4 pulp
High density cleaner: remove heavy impurities
Conical refiner: continuous pulping wood pulp, improving the beating degree
Inflow pressure screen: make the slurry uniform
Want to know more details about 30t/d wood pulp processing culture a4 paper pulping line. Contact us, solve your confusion. Email address: leizhanmachine@gmail.com.