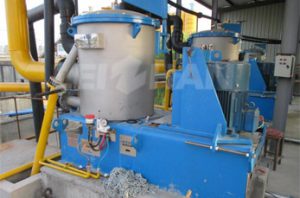 There are many impurities in waste paper recycling pulping line. Slurry needs to enters paper machine stage after screening system and cleaner system. Middle consistency pressure screen apply to coarse and fine screening of various waste paper pulp. The pressure screen can screen pulp normally under quite high consistency. It can reduces the amount of water cycle and system energy consumption in production process. Therefore, middle consistency pressure screen applied interlock system to ensures the service life.
The Importance Of Interlock System In Pressure Screen
The sealed water flow pressure alarm of the middle consistency pressure screen is connected with the interlock control cabinet. The control cabinet receives the pressure and flow signal of the sealed water. When the set parameters are not met, (if the flow is insufficient, the pressure is not enough), the control cabinet is given to the pressure screen. The motor of the motor and the pressure screen of the pressure pump sends a signal to stop the motor of the slurry pump first, and then stop the pressure screen motor after 20~30 seconds. In this way, the operator can find out the problems in the pressure screening process in time, and dispatch the maintenance personnel to adjust and repair the sealing water system of the pressure screen to meet the parameter requirements of the normal operation of the pressure screen, and then start the pressure screen production. Without this interlocking protection system, it is possible to operate the pressure screen in the absence of sealed water. This will cause the mechanical seal to be quickly damaged, and the slurry and water in the pressure screen will leak out, causing the loss of the slurry and the mess in the field, and even the bearing part will damage the bearing of the pressure screen, seriously affecting and delaying the production, causing great losses to the enterprise.
We have 39 years experience in manufacturing pulping equipment. At the same time,we are an enterprise integrating industry and trade. Looking forward to cooperating with us. Email address: leizhanmachine@gmail.com