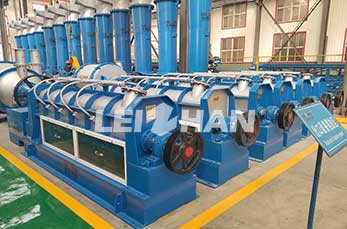 The Reject Separator is an ideal equipment for tailing pulp treatment in waste paper pulping system and it mainly used for fiber loosening and impurity separation. The reject separator has sealed working condition, European standard pulleys, high-speed rotating blades. Energy saving, high efficiency and long service life.
Features of The Reject Separator
1. The centrifugal force generated by the high-speed rotating blade and the special rotor has a strong ability to loosen the pulp.
2. The seal working condition ensures zero fiber loss.
3. The rotor spiral blade accelerates the tailings forward.
4. There is a water spray device to improve the fiber recovery rate.
5. Easy to disassemble, easy to install, convenient for maintenance and cleaning, long service life.
Zhengzhou Leizhan is a professional manufacturer of paper making machine and pulping machine. We can not only provide a complete set of pulping equipment, but also have a professional team to recommend suitable machine to meet your needs. If you are interested in our company's machine, welcome to consult us for more details.
Email: leizhanmachine@gmail.com