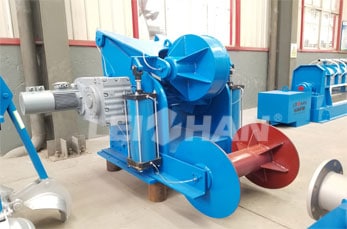 Ragger is a kind of rough separation and purification equipment, which is often used in conjunction with continuous crushing equipment such as Hydrapulper. The role of the Ragger is to make the impurities contained in the waste paper, such as iron wire, string, plastic, cotton yarn, etc., continuously rotate and twist during the operation of the Hydrapulper to form a strand, and then continuously pull it out and drain, make the slurry get preliminary purification.
Features of Ragger
1. The Ragger is used in conjunction with the pulper, which can effectively remove entangled debris;
2. The guide rope of the Ragger is easy to install, and the twisting direction is adjustable;
3. The rope speed of the Ragger can be adjusted flexibly;
4. The Ragger adopts an integrated design, which is convenient for installation and maintenance.
The Ragger produced by Leizhan has been used in the production projects of many paper mills. If you want to know the price, specifications, power and other information, you are welcome to consult us.
Email: leizhanmachine@gmail.com