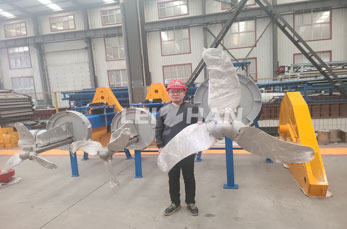 In the pulp making process, the pulp chest agitator is mainly applied to circulate and agitate the pulp in the pulp chest to keep the liquid pulp in a suspended state and ensure uniform distribution of pulp components. Moreover, we provide full set of stock preparation line machine for your paper mill project.
Pulp Chest Agitator Details
1. The agitator consists of a cycloidal pinwheel reducer, a bracket, a chassis shaft seat and a mixing paddle.
2. The whole machine is installed on the top of the pulp chest and fixed with anchor bolts. To prevent oscillations, the end of the shaft head under the mixing shaft is supported radially.
3. The stirring paddle is made of two-channel steel and is fixed to the stirring shaft. Depending on the user's needs, the entire surface can be galvanized or protected against rust.
As a company with over 40 years experience in paper industry, our company is always highly recognized by customers. Our pulp chest agitator have already brought great profit for our customers. If you have any problems in pulp or paper making process, welcome to contact us at any time.
Email: leizhanmachine@gmail.com