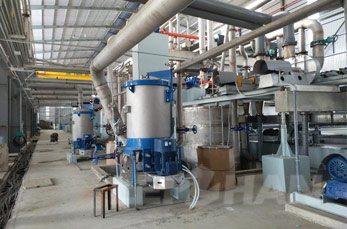 The formation of a piece of paper consist of few steps. First is the selection of raw material, second is pulp making, third is paper making(turn pulp to final paper), last is paper roll rewinding, cutting, packaging, selling… As the leader of paper machinery and pulp equipment manufacturer, we supply paper equipment for paper mill.
Paper Pulp Making Machine
Chain Conveyor: Conveying waste paper to pulper machine;
Pulper Machine: Drum Pulper, D type Hydrapulper, M.CHydrapulper, H.C.Hydrapulper etc, pulping waste paper to pulp;
Pulp Screening Equipment: Mid Consistency Pressure Screen, Reject Separator, Vibrating Screen, Turbo Separator, screening and separating the impurities in waste paper pulp, improve the quality of paper pulp and reduce the pulp and fiber loss;
Pulp Cleaning Equipment: High Density Cleaner, Mid Density Cleaner, Low Density Cleaner pulp machine used to remove heavy impurities in pulp, such as scrap iron, gravel,staples, stones, glasses, etc;
Pulp Approaching Equipment: Inflow Pressure Screen flow the pulp to headbox, can get more even pulp.
If you want to set up a paper mill or upgrade the pulp equipment in pulping line, feel free to consult us: leizhanmachine@gmail.com