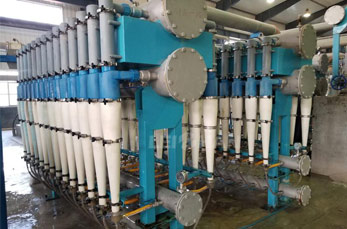 LD cleaner mainly used in waste paper recycling production line to remove heavy impurities like gravel, scrap iron, dust and large ink particles. LD cleaner widely used in kraft paper making line and corrugated paper making line and has excellent remove slag ability. The pulp cleaning machine LD cleaner equipped with PLC control system and wear-resistant ceramics to ensure the ability of cleaning. More specifications of LD cleaner as below.
LD Cleaner Main Specifications
Raw material: OCC
Passing capacity: 400-1500l/min
Inlet consistency: 0.3-1.5%
Pressure of inflow pulp: 0.2-0.4(mpa)
Diameter of remove slag outlet: 4-18(mm)
Equipped: PLC control system, wear-resistant ceramics
Excellent remove impurities ability is central in waste paper recycling pulping line. Because the effect of slag removal directly affects the quality of the finished paper product. Leizhan offer complete set of pulping line equipment. If you want to know more details, please feel free to contact with us. Email address: leizhanmachine@gmail.com.