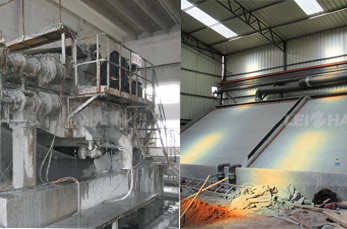 Corrugated pulp production lines have low pulping yields and high energy consumption, which has always troubled customers. In order to resolve these problems, our technical group put forward use inclined screen replace single cylinder thickener reconstruction project in pulp production line and achieved good results.
Before Reconstruction Thickening Process
1.Power consumption
4 sets single cylinder thickener are equipped with 4 sets motor power,resulting in high power consumption in the concentration
process
2.Fiber Loss
The slurry at the edge of the rotary screen thickener is sent into the white water, which causes serious slurry loss.
3.Footprint
In order to stabilize the slurry concentration, a agitator must be equipped, which not only increases the power consumption of concentration, but also covers a large area.
After Reconstruction Thickening Process
1.Power consumption
4 slurry pumps and 2 thrusters used in the single cylinder thickener have been stopped, and the power consumption has been significantly reduced.
2. Fiber loss
After the renovation, the concentration of external drainage decreased and the rate of fiber loss decreased.
Use inclined screen replaced single cylinder thickener reduced power consumption and fiber loss, thereby improved customers benefits greatly. If you want to know more details, please feel free to contact with us. Email address: leizhanmachine@gmail.com.