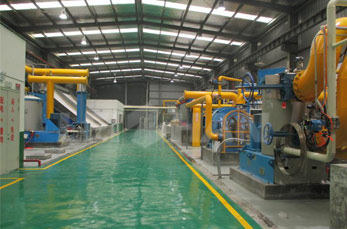 More and more people wants to invest paper making business. Produce recycled paper through waste paper recycling, pulping, screening and cleaning,etc. A customer start new paper recycling pulping line to make T-paper corrugated paper, and ordered complete waste paper recycling pulping line equipment. Our technical group drew a reasonable proposal for the customer. Main equipment in the T-paper corrugated paper line as below.
Pulping Equipment of T-paper Corrugated Paper Making Line
Conveying equipment: Chain Conveyor.
D type continuous pulping system: D Type Hydrapulper, Hydrapurger, Drum Screen, Ragger, Rope Cutter, Grapple
Pulp cleaning machine: Reject Separator, Light Impurity Separator, Slag Lifting Machine, High Density Cleaner.
Pulp screening machine: M.C. Pressure Screen, Inflow Pressure Screen.
Pulp refining machine: Refiner, Disc Thickener.
Want to set corrugated paper mill? Welcome to contact me for more technical details. Email address: leizhanmachine@gmail.com.