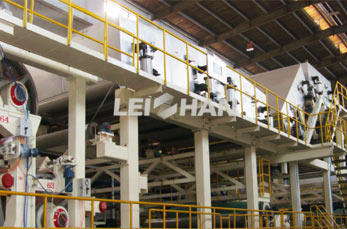 The Coating Board Paper Machine is mainly used for the surface coating process of film, paper, etc. This machine coats the roll of the material with a special glue, paint or ink, and then winds up after drying. For papermaking equipment, it belongs to the category of equipment accessories. If the coater is indispensable in the process of operation, such as the wear of the transmission parts, then how do we troubleshoot?
Wear of the Drive Part of Coating Board Paper Machine
The traditional repair methods include surfacing, thermal spraying, brush plating, etc, but all have certain drawbacks: surfacing will cause the surface to reach a very high temperature, causing deformation or cracking; electroplating plating layer should not be too thick, and the pollution is serious, and the application is also limited.
Concrete Foundation Damage of Coating Boarding Paper Machine
Due to corrosion, aging, equipment vibration and other factors, the Coating Board Machine will also be malfunction in the concrete base and other parts, resulting in loosening of the bolts of the fastening equipment, which seriously affects production and is difficult for enterprises to accept.</p
Leizhan provides various kinds of paper and pulp machine. Welcome to contact us for more details.
Email: leizhanmachine@gmail.com