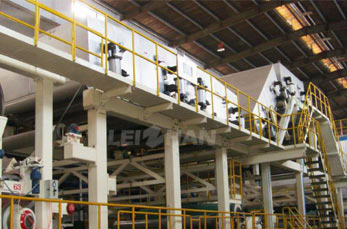 Coating paper is coated with a layer of paint on the base paper to make the paper have good optical properties and printing performance. Its main uses include: printing paper for magazines, books, etc. and printing paper for trademarks, packaging, catalogs, etc. 4200mm coating white board paper machine mainly consists of calender, coater, single-sided hot air drying oven, dryer, paper reel. More specifications about coating white board paper machine as below.
More Specifications of 4200mm Coating White Board Paper Machine
Paper type: Coating White Board Paper
Basis weight: 180~300g/m2
Trimmed width: 4200mm
Roll paper width: 4260mm
Design speed: 350 m/min(50 Hz)
Working speed: 150-250 m/min(50 Hz)
Dynamic balance vehicle speed: 400m/min
Coating method: knife metering coating
Coating amount: 5~20 g/m2 (each time)
Coating solid content: 58~60%
Coating amount error: 5%(coating amount)
Transmission form: AC motor frequency conversion control, partial transmission
Gauge: 5300mm(tentative)
Coating paper plays an important in our daily life, and more and more customers invest to build coating board paper making project. Want to know more about 4200mm coating white board paper making machine, please feel free to consult me. Email address: leizhanmachine@gmail.com.