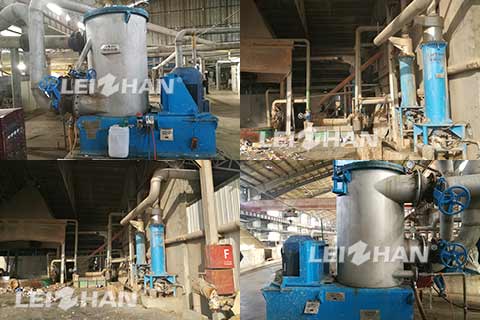 Iran PKP paper mill has an old paper making line – 250tpd Paper Production Line, which can produce high quality paper in Iran. And Leizhan, as the partner and friend with them, we supplied Paper Pulp Screening & Cleaning Machine for the 250tpd Paper Manufacturing Process.
Paper Pulp Screening Machine – M.C. Pressure Screen
M.C. Pressure Screen is used for coarse and fine screening of various waste paper pulp, but sometimes the Paper Coarse Screening Hole will be Plugged, and to solve the problem, Leizhan experts advise:
Closed the accept valve, open all tailing valves, when pressure difference is < 10KPA, open fine pulp valve slowly until to the normal aperture, tailing valve recover to the normal aperture.
Paper Pulp Cleaning Machine – High density cleaner
High Density Cleaner is always used after pulping in paper making process, and is mainly applied to remove all kinds of heavy impurities in paper pulp. And to ensure the normal operation of pulp cleaning machine, Leizhan give a following suggestion:
Observe the pressure gap of inlet and outlet pipe, adjust the flow control valve, make the pressure difference of inlet and outlet pipe accord with the technological requirements.
Now Iran PKP paper mill runs their new 450T/24H paper making project for high quality kraft liner/white board paper, T-paper making. Thanks to our top quality pulp and paper equipment and advanced pulp processing design, Iran PKP paper mill choose Leizhan as their supplier of the Whole Set of Pulp Screening and Approach System Before Paper Machine. Inquiry Now: leizhanmachine@gmail.com

services
Supply the most current design and technical expertise; Supply parts sales and training service far beyond the initial sale; Your profits with quality parts and expert service.
+86-371-55129198, +86-13783579051
Fax: +86-371-86138029