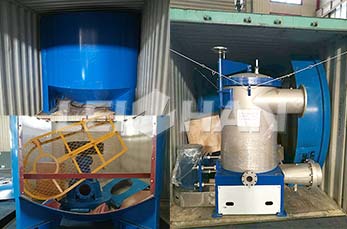 D Type Hydrapulper for Kraft Paper Making
While, Leizhan have delivered a 10m³ D Type Hydrapulper for our India Paper Maker friend in 10th July 2017. The Paper Mill want to update their 80tpd Kraft Paper Making Line to improve the production. Besides, the kraft paper production line use the old horizontal pulper, which can't maximum make the paper's fiber dissociating into fiber bundles or single fibers. So, both the output and the efficiency are too low, and energy has been wasted.
To solve the problem of the kraft paper manufacturing line, Leizhan experts give the solution: change the old horizontal pulper to D pulper, and add a 1m² inflow pressure screen.
Why add the Inflow Pressure Screen?
When the India Paper Mill found us, and told their demands to us, our experts found they have no the inflow press screening equipment, which is advanced paper pulp screening equipment in the modern world and it has great ability of screening function and low pulse. To have a good effect of homogenate, Inflow pressure screen is often used in the before paper machine, and it has the long pulping residence time, sufficient fiber relief, low rate fine fiber loss, etc. advantages.
Contact us, we offer technology and solutions for kraft paper making, also the kraft paper machine and spare parts for you.

services
Supply the most current design and technical expertise; Supply parts sales and training service far beyond the initial sale; Your profits with quality parts and expert service.
+86-371-55129198, +86-13783579051
Fax: +86-371-86138029