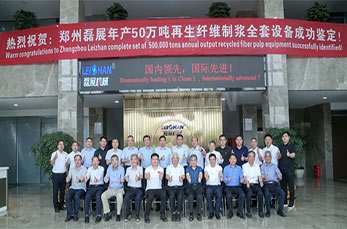 The complete set of recycled fiber pulping equipment with an annual output of 500,000 tons provides process and equipment support for paper mills that are in shortage of raw materials and stricter in environmental protection.This set of equipment can effectively improve the situation that waste paper is recycled so many times that the strength of the paper is insufficient, and can improve the level of comprehensive utilization of resources.
Advantages of the set of pulping equipment
1、It is mainly used in the pre-production section of the production of high-grade packaging paper, and the regenerated fiber is processed through the sections of pulping, cleaner, and screening.
2、The overall pulp line uses jet technology, which has the advantages of short process, reduced floor space, and investment saving.
3、All equipment adopts intelligent control, which is easy to operate and stable in operation.
4、Low energy consumption, advanced technology, low fiber loss rate and high sticky removal rate.
Leizhan is committed to providing a full range of paper pulping production line cases. If you are interested in any of our equipment, please contact us for details. Email adress: leizhanmachine@gmail.com