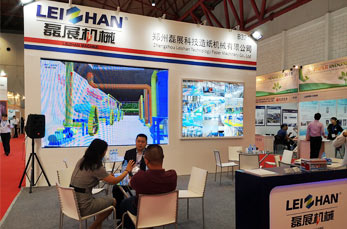 Representatives of our company have visited many countries to participate in the exhibition, such as Iran, Unit Arab States, Vietnam, etc. The exhibition will enable our customers to understanding our pulping equipment and the future of the paper recycling industry. 2019 Envirpro Paper Exhibition held in Jakarda. Our professional sales manager and technical engineer attend the exhibition. We are professional manufacturer from China and cooperation with many customers from many countries.
The Info About 2019 Envirpro Paper Exhibition In Indonesia
Theme: Envirpro Paper Exhibition
Date: 28-30th, Aug, 2019
Location: Jakarda, Indonesia
Exhibition hall: B321
Exhibition time:9:00am-17:00pm
Exhibition criteria: Pulping Equipment, paper machine, water treatment equipment,etc.
Do you have the idea to establish a paper mill? Our company provide the whole set of pulping equipment, like hydrapulper, screening equipment, cleaner equipment and so on. Welcome to the site to discuss more details with our sales manager and engineer, they will provide the reasonable solution to solve your confusion. Email address: leizhanmachine@gmail.com.