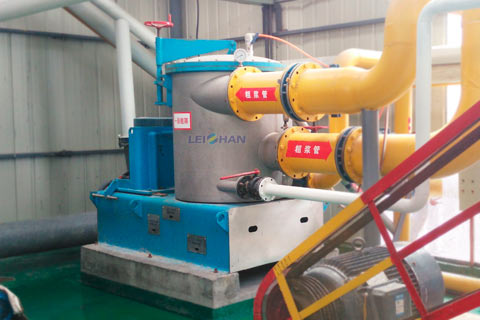 Leizhan supplied corrugated box production line machine has successfully come into operation
Recently, China Sichuan Shifang  Renliang Paper Mill's corrugated box manufacturing line supplied by Leizhan paper machinery company has successfully come into operation. Leizhan has supplied paper mill machine around the world and most province of China. To successful cooperation with Sichuan Renliang Paper Mill was the result of Leizhan's innovative technology and reliable service at home.
Paper pulp machines for Shifang Renliang Paper Mill
Leizhan delivered the whole paper pulp production machines for Shifang Renliang Paper Mill. Machines included: Chain conveyor, Drum pulper, High density cleaner, Mid consistency pressure screen, Fiber fractionating screen, Reject separator, Low density cleaner, Inclined screen.
Reject separator: PZ series reject separator is mainly used in paper pulp making line for fiber relief and impurities separate for tailing in the coarse screen system for waste paper pulp. It has the benefits of  less fiber loss and low production cost.
Low Density Cleaner: Waste paper pulp cleaning equipment Low Density Cleaner is mainly used for removing heavy impurities in the pulp like gravel, scrap iron, dust and large ink particles.

services
Supply the most current design and technical expertise; Supply parts sales and training service far beyond the initial sale; Your profits with quality parts and expert service.
+86-371-55129198, +86-13783579051
Fax: +86-371-86138029