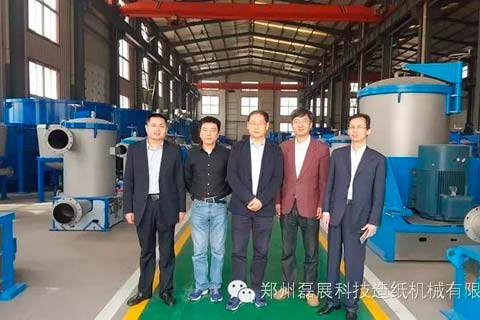 Leizhan welcomes you!
Recently, China Zhengjiang Paper Association secretary general Mr.Zheng, Meichen Headbox chairman Mr.Zhang, General manager Mr. Meng, Zhengjiang University Chairman came to visit Leizhan pulp and paper machinery factory and gave some precious paper industry development opinions, and gave some advises for Leizhan development direction.

What's more, after viewing Leizhan pulp and paper machine working site, they gave highly approval and fully affirm to Leizhan paper pulp machine quality and running condition.
Main paper pulp machine manufactured by Leizhan
Conveyor&agitator: Chain conveyor, Pulp pump, Agitator.
Pulp breaking system: Pulper, D type hydrapulper, Vertical hydrapulper, High consistency hydrapulper, Mid consistency hydrapulper, Drum screen, etc. 
 Pulp cleaning system: High density cleaner, Low density cleaner
Pulp screening system: Mid consistency pressure screen, Inflow pressure screen, Light impurity separator, Reject separator, Vibrating screen, Fiber separator, etc.
Pulp refining system: Double disc refiner, Conical refiner, Claflin refiner.
Pulp thickening system: Stock washer, Inclined screw thickener, Bleaching tower, etc.
Paper making machine supplier
Paper Machine: Kraft paper, Fluting paper, Coated board paper, T-paper, Tissue paper making machine.