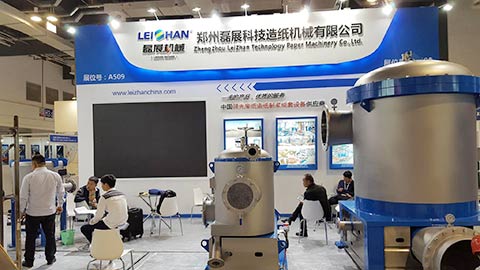 The above picture of CIPTE 2016 in Shanghai
CIPTE 2017(China International Paper Technology Exhibition and Conference) will be held in 13-15th, Sep, Shenzhen, China. Leizhan as a professional manufacturer of paper and pulp equipment will attend this international paper technology exhibition.
What's The Purpose Of Exhibition?
This exhibition will invite experts from China, Germany, Canada, Sweden, etc. to discuss the development of paper industrial new technologies and new products, intelligent manufacturing, energy-saving and emission-reduction and other cutting edge technologies, analyze the latest development of global paper industry, and find the new kinetic energy to promote the development of paper industry.
Leizhan Technology Paper Machinery Company
Leizhan as a leading manufacturer of paper and pulp equipment with 37 years experience, always provide high quality equipment and excellent service for customers. At the same time, Leizhan always actively take part in all kinds of paper technology exhibition to learn about the new technology, and constantly improve themselves. In 2016, Leizhan attend the Shanghai International Paper Technology Exhibition achieve a great success.
Booth Information
Date: 13th~15th, September, 2017
Booth No.: A3331
Location: Shenzhen Convention & Exhibition Center, Shenzhen, China
Email: leizhanmachine@gmail.com