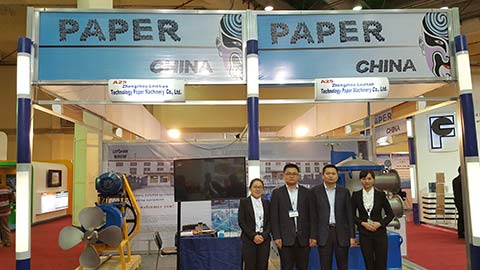 The above picture is Leizhan attended Paper Middle East Exhibition 2016
As we all know, PAPER MIDDLE EAST EXHIBITION 2017, The 9th International Exhibition for Paper, Board, Tissue, Printing & Packaging Industry that will be held on 24-26 October, 2017, Cairo International Convention Center, Cairo – Egypt Halls (1,2,3) This event showcases products like products and services for the exchange of ideas, industry information and solutions; and a unique opportunity to engage with the market leaders and its stakeholders etc. in the Paper and Paper Products industry.
Egypt Makets
With the expansion of overseas markets, Leizhan has set up two whole paper making line – 150tpd corrugated/whiteboard/kraft paper making project in Egypt. And the two customers both use the locc as the raw material, and the capacity production are both 150tpd. In addition, they both choose the 2750 fibreflow drum pulper for fiber slushing and separation of coarse contaminants for all kinds of recovered paper. High production capacity and low power consumption in a single unit make the FibreFlow drum pulper the preferred choice for continuous pulping.
Booth Information
Conference Dates: 24-26 Oct 2017
Location: Cairo International Convention Centre, Cairo, Egypt
Booth No: A25
Email: leizhanmachine@gmail.com