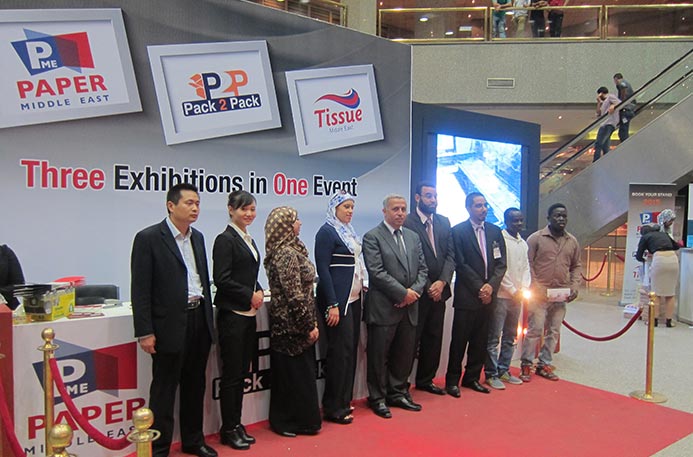 PAPER-ME 2014 Exhibition, the 6th International Fair, took place on October 22-24, 2014 at Cairo International Center in Egypt featuring latest technologies and solutions of paper, board, tissue, and packaging industry.
PAPER-ME 2014 Exhibition provided a perfect platform to display the latest equipment, machinery, products and services of pulp and paper making industry. 113 Exhibitors participated in the exhibition and exhibited their products.
Leizhan's state-of-art technologies and services on paper and pulp manufacturing project were showed at the exhibition. Leizhan paper production line contains two parts: pulp making system and paper manufacturing system.
Paper mill can use Leizhan new type paper machinery to produce high quality paper ( kraft paper, corrugated paper, cultural paper, tissue/toilet paper, coating board paper, etc.) by using virgin pulp, white shavings, waste paper LOCC AOCC OCC as raw materials.
Pulp making system
machines required in the pulp making system contains: chain conveyor, pulper (drum pulper, D type hydrapulper), cleaner( high density cleaner, low density cleaner, etc.), screener ( mid consistency screen, vibrating screen, inflow pressure screen, etc.), separator ( single effect fiber separator, single fiber separator, reject separator, etc.), refiner( double disc refiner, claflin refiner, conical refiner, etc.).
Paper production system
Leizhan paper manufacturing project can be divided into several sections: forming section, press section, dryer section, sizing section, reel section. Leizhan supply paper machine hi-tech spare parts like reeling machine, sizing machine, calender, dryer cylinder, press roll, felt leading roll, stretcher, gear, felt, etc. for paper plant.