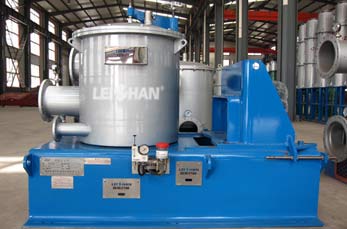 Leizhan offers the optimum paper pulp screening system for cultural paper making project. ISO certificate mid consistency pressure screen is the most efficient screening equipment for providing clean and fine pulp to paper plant.
ZNS series mid consistency pressure screen consists of cylinder, cylinder cover, screen cylinder, rotor, base, drive divice. The part contected with slurry is made of stainless steel.
Advantages of ZNS series mid consistency pressure screen
a. Many rotor blades, no winding, high efficient and energy-saving rotary rotor.
b. The machine can screen pulp normally under quite high consistency(2.5-4%). It reduces the amount of water cycle and system energy consumption in production process. Heavy impurities discharge pipe makes sure the screen basket runs safely.
c. Advanced structure, sturdy and durable, convenient disassembly and assembly, low energy consumption, less loss of fiber. Easy to operate, less malfunctions for continuous working, less maintenance cost.
d. Automatic oil injection device can reduce maintenance.
e. Seal water flow automatic detection alarm device makes sure the system runs safety.
f. Interlock system ensures the service life of equipment.